Saturday Workshops
Cobh Maritime Song Festival 2007

Sail Ho! The Origins and Usage of Shanties
A workshop with Johnny Collins and Jim Mageean
Saturday 2 June 12:00pm – 1:00pm Admission €5.00
Sirius Arts Centre

Join two of the greatest shanty men you will ever meet in a workshop that studies the original uses of shanties.

Shanties were originally used as simple tools to help sailors coordinate their efforts in carrying out various tasks necessary for the successful sailing of the ship. Some shanties involved heaving on Capstan Bars to turn the Capstan and raise the anchor. Other shanties were Hauling Shanties for pulling on halyards to set sails. Still other shanties were used at the pumps which were used to keep the ships afloat. Many of the old wooden ships leaked quite a bit and pumping was an essential task!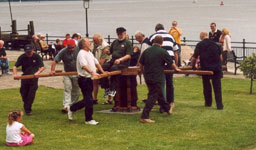 In the old days shanties were never sung for pleasure but only for work. Whilst nowadays shanties are predominately used for their musical entertainment value it is important to have a clear picture of their essential value to the early sailors and how they were used in these working situations. Johnny & Jimmy's workshops are always "voices on" and there will be ample opportunity for people to have a go at singing some shanties.
THE PORT OF NEW YORK
A workshop with Dan Milner and Bob Conroy
Saturday 2 June 2:00pm - 3:00pm Admission €5.00 Sirius Arts Centre
Dan Milner and Bob Conroy presnt a multi-media presentation on New York and why it was the greatest city in the world during the 20th century - This workshop will feature songs, photos, maps and information from one of the most enlightened duo on this subject.